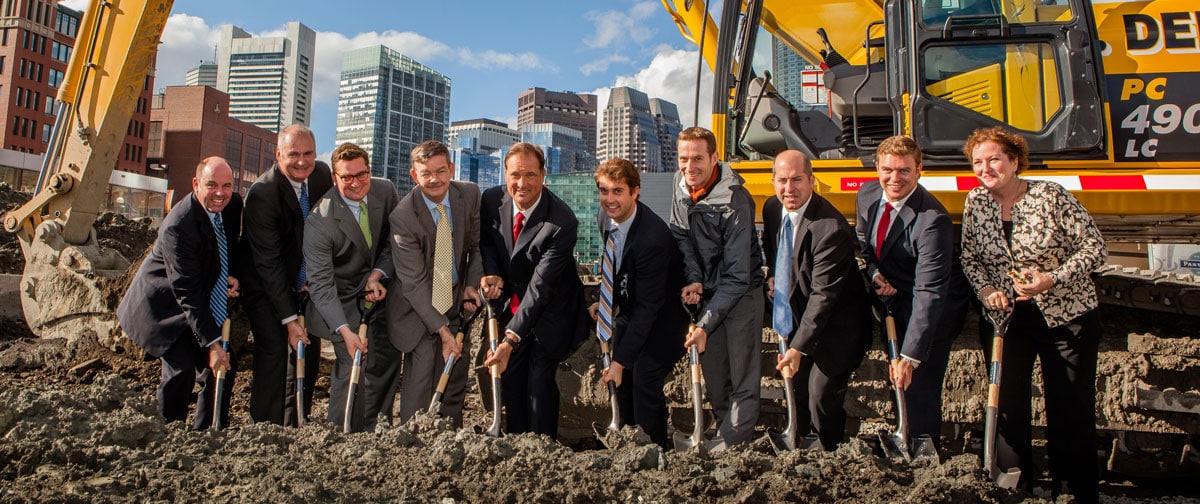 JOHN B. HYNES, III
CEO & MANAGING PARTNER
John Hynes is the CEO and Managing Partner of Boston Global Investors. Prior to the formation of BGI in April, 2010, Mr. Hynes spent ten years as CEO and Managing Partner for Gale International and served as the driving force in the company's aggressive expansion both domestically and in Asia. During his tenure at Gale, Mr. Hynes was the deal originator and managing Partner for the successful development of One Lincoln (now known as State Street Financial Center) and initiated Boston's Seaport Square project. He also secured the massive New Songdo City project, a US $35B, 100 million square foot master planned city near Seoul, South Korea, one of the largest private real estate projects in the world today.Prior to joining Gale, Mr. Hynes spent ten years as a broker with the Codman Company and RM Bradley & Co. and ten years as the local development partner with Lincoln Property Company. During that time he participated in more than three hundred leasing and sales transactions in the Boston market totaling over six million square feet and developed three office projects totaling two million square feet with an aggregate value in excess of one billion dollars.
Currently, Mr. Hynes is focusing on the development of the 6M SF mixed-use Seaport Square project which is to be completed within this decade. John remains committed to and active within the Boston and Cape Cod communities and sits on the board of several non-profits and professional organizations. John is a graduate of Harvard College where he captained the 1980 hockey team.
KEVIN R. BENEDIX
CHIEF OPERATING OFFICER & CFO
Kevin Benedix is responsible for international and domestic financial operations and asset management in addition to directing all corporate operations. Mr. Benedix was part of the Gale International team for eight years, most recently as CFO, and worked with the executive team on the day-to-day oversight of investments in domestic and international development projects and real estate. This included the construction, wrap up and award winning operation and sale of the One Lincoln Street / State Street Financial Center Project. Originally an auditor with Touche Ross, Mr. Benedix entered the private real estate sector with R.M. Bradley & Co. in 1990. While there, he managed the financial operations for over US $1B in assets, including Prudential Center, Boston and a national 800-property bank portfolio. Following R.M. Bradley, he joined CB Richard Ellis as Controller for the New England region.
Mr. Benedix attended St. Michael's College in Vermont, where he graduated with a Bachelor of Science Degree in Accounting and scholar / athlete honors.  Long active in the community, he joined the board of directors of The South Boston Neighborhood House in 2007 and is currently President of the 114 year old organization.
LEONARD M. CONLIN, JR.
EXECUTIVE VICE PRESIDENT & DIRECTOR
Leonard Conlin brings 30 years of experience in general contracting, construction management and real estate development. Mr. Conlin manages design, construction and project delivery for Boston Global Investors. He is currently managing Seaport Square's Block B/C Project in Boston, a 1.4 million square foot mixed-use development. Prior to Boston Global Investors, he spent ten years with Gale International managing design and construction services for a series of prominent projects including the One Lincoln Street Project, a 36-story, $350 million, 1.1 million square foot office tower in downtown Boston completed on time and on budget in June 2003. He also assisted in the sale of the building in 2004 for a record $705 million.
Before joining Gale in 2000, Mr. Conlin worked for Turner Construction, Bovis Lend Lease and Raymond Property Company. Notable projects include: 10 St. James Avenue, a high-rise office tower in Boston, MA; Carolina Panthers NFL Stadium, Charlotte, NC; IRS National Headquarters outside of Washington, DC; 75 State Street, Boston, MA, and Charles Square, a mixed-use development in Cambridge, MA. During the course of his career, Mr. Conlin has participated in over 100 completed projects totaling more than 20 million square feet with a combined construction value of $4 billion dollars.
Mr. Conlin holds a Bachelor of Science in Civil Engineering, Cum-laude, from the University of Massachusetts, Amherst, and has completed real estate studies at
Harvard College.
JAMIE GERRITY
VICE PRESIDENT & CHIEF INVESTMENT OFFICER
Jamie Gerrity is responsible for evaluating corporate investments, including the sourcing, structuring, and financing of new projects. Prior to joining BGI, Jamie was a Vice President at BXR Group, an international private equity firm. While at BXR, Jamie helped to structure and implement a commercial real estate investment platform focused on opportunistic acquisitions throughout the United States across asset classes. Jamie began his career at Centremark Properties, a boutique real estate investment firm located in Boston. While at Centremark, Jamie sourced properties for acquisition, oversaw the analysis and due diligence process for new acquisitions, and asset managed a 1,000,000 square foot portfolio of office, retail, and industrial assets.
Jamie has been directly involved in over $500 million of commercial real estate investments, and he has experience in both ground-up development and adaptive re-use across asset classes. Jamie received his undergraduate degree from Williams College, and his Master's from the Massachusetts Institute of Technology.
DAVID WAMESTER
EXECUTIVE VICE PRESIDENT & DIRECTOR
David Wamester is the Project Executive for Boston Global Investors' Seaport Square development, a new U.S. $3.5 billion dollar, mixed-use neighborhood planned for a 23-acre site on Boston's Seaport District. Mr. Wamester has overseen the master planning and entitlement process for this 6.3 million square foot development since the project's inception in 2006. Working closely with the Boston Redevelopment Authority (BRA), Seaport Square is the largest Planned Development Area (PDA) approved by the City of Boston. Previously, Mr. Wamester was a Senior Vice President at Gale International. Before joining Gale, he was Senior Vice President / Principal of Boston Capital Institutional Advisors, responsible for the management and operation of over 80 commercial properties comprising more than 12 million square feet. Prior to that, he was Senior Vice President / Officer of MGI Properties, a publicly traded real estate investment trust.
Mr. Wamester is a graduate of Assumption College with a BA in political science and received his Master's Degree in Public Administration from Suffolk University.